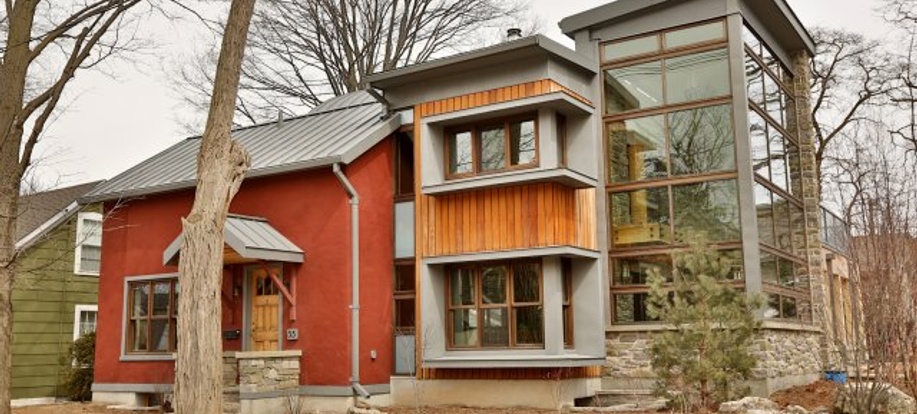 Project Team
Designer/Builder

: Matt & Annette Gilgan
Green Building Audio
Targeting LEED Green Education Credit?
Our audio tours qualify.
Get one today!
Summary
LUXURY, ARTISTIC, SUPER-GREEN home on a beautifully landscaped lot in DOWNTOWN OAKVILLE.
Nearly 5,000 sq ft of living space, 3,350 above ground. Open concept passive solar design, Straw bale insulation, 100 year zinc roof, Bauhaus windows, Valcucine recycled glass kitchen, Finnish soapstone fireplace/bake oven, geothermal radiant floor heating and cooling, Oakville red clay floor, earthen interior walls, rainwater harvesting, living roof terraces, reclaimed and local materials.
OFFERED FOR SALE AT BUILDING COST. NOT FOR PROFIT.
Historic foundation component Soy based spray foam
Insulated Roof Straw bale insulation for most exterior walls (not on historic facades)
Double framed, double insulated walls on historic facades
Semi-local natural stone thermal mass walls
Bauhaus Sapele windows
Valcucine glass kitchen
Tulikivi Thermal Mass Heater from Finland
Geothermal radiant floor heating and cooling system
Reclaimed beech barn board floors ceilings and walls
Reclaimed ash door frames
Reclaimed oak custom made doors
Earthen plaster interior walls and ceilings
Oakville red clay floor
Rainwater harvesting system 100 year zinc roof
Living roof terraces
3rd story terrace
2 stage composting station
Fully landscaped yard including combination of food bearing, native, and good pollinator plants, as wellas four more formal vegetable garden beds
Baril waterwise "made in Montreal" faucets in the powder room and master ensuite
Restored pedestal sink from the original house
Restored clawfoot tub serves as a utility tub in the basement
Canadian cedar cold cellar
Local stone used in the landscaping
Firewood shed with living roof
Vintage and/or re-used chandeliers and fixtures
Custom made from construction scrap stair lighting
Herb/plant ledge in the kitchen
Passive solar design elements including solarium and open concept interior
Reclaimed material art wall
Reclaimed medical cabinets for the master ensuite vanities
Bamboo vessel sinks in the master ensuite
Hand selected in small batches from within walking distance Lake Ontario shore stone shower floor
Tadelakt(Moroccan hand polished earthen plaster technique) finish in the bathrooms and laundry
Custom made Tadelakt sink in the 2nd bathroom
Reclaimed fir from barn beams custom designed stairs, with custom brackets and glass guards
Re-used, vintage, and or/made from reclaimed materials furnishings and decor throughout
Fully renovated single car garage with attached storage shed
Antique cabinet for powder room vanity
Heat recovery drain 
Recessed coffer to expose original 1870s joists
Reclaimed metal beds in the landscaping
Reclaimed concrete core sample balance wall